Research & Publications
Faculty of Agriculture & Plantation Management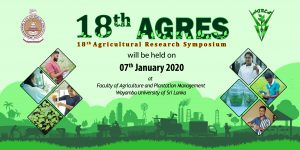 Agricultural Research Symposium (AGRES)
Agriculture Research Symposium (AGRES) is a forum for our undergraduates to present the findings of the research project done by them to an audience including scientific and industrial personnel. In this year, it is organized for the 18th consecutive year in 2019. The research project is conducted by the students in the 4th year of the degree program and its covers 10 credits as a partial fulfilment of the degree. AGRES provides opportunity for students to learn about the way of conducting a scientific research, writing a scientific research paper and presenting in a scientific forum in front of such a gathering. Organizing such a scientific event, is a challenge. Therefore, students learn how to plan, organize, lead and control/manage such activities in better way. And also this event opens a path for the students to improve many skills such as team work, interpersonal skills, time management, financial handling, problem solving and creative thinking as well. For this year, the AGRES has been planned to be held on 07th January 2020 for its 18th year.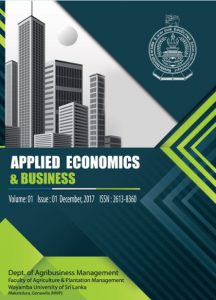 Applied Economics and Business
Applied Economics and Business journal is published by the Department of Agribusiness Management of the Faculty of Agriculture and Plantation Management. It is published twice a year, in June, and December. Applied Economics and Business covers a wide range of disciplines, including: Applied Economics, Agricultural Economics, Agribusiness, Applied Econometrics, International Trade and Business, Business Management, Development Economics, Environmental and Resource Economics, Industrial Organizations, Entrepreneurship, Marketing, Social sciences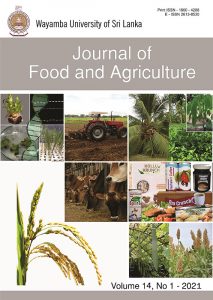 Journal of Food and Agriculture 
Journal of Food and Agriculture is a half yearly publication by the Faculty of Agriculture and Plantation Management and Faculty of Livestock fisheries and Nutrition of the Wayamba University of Sri Lanka which provides a valuable forum for scientists endeavoring in research and development aspects in agriculture, food and nutrition. Full text articles available.