Department of Biotechnology
Biotechnology is a broad discipline on technologies based on biology that improve human lives and health of the environment. The subject area covers principles and applications on how organisms, cells or cellular components and biological processes are utilized to develop new products and technologies in food manufacture, health industry, agriculture, energy production, industrial manufacture and remediation of polluted environment.
The Department of Biotechnology of the Faculty of Agriculture and Plantation Management was established in 2001. The first batch of biotechnology specialization students (15) graduated from the faculty in 2006. Biotechnology laboratory established in 2001 with minimum facilities and now it is well-equipped with adequate facilities for conducting practical sessions and research in the fields of molecular biology, microbiology and plant tissue culture.
At present, the Department of Biotechnology consists of seven permanent academic staff members (6 PhDs and 1 MPhil) who are well-trained experts in the fields of molecular biology, genetics and plant breeding, genetic engineering, microbiology, biochemistry and plant tissue culture. Five academic support and four non-academic staff members support to strengthen the service of the department. The department has produced a total of 174 biotechnology specialized graduates during the last 12 years and currently, 38 undergraduate students are specializing in biotechnology discipline and. Department engages in postgraduate education via research studies and 1 PhD and 3 MPhils have been completed another two postgraduate students (2 PhDs and 1 MPhil) are progressing in their postgraduate research studies.
Vision of the Department:
To be an acclaimed and recognized academic department for biotechnology education in Sri Lanka and the region.
Mission of the Department:
Empowering students with knowledge, skills, attitudes and values to provide skilful biotechnology professionals and technologies through innovative education programmes to serve the global society.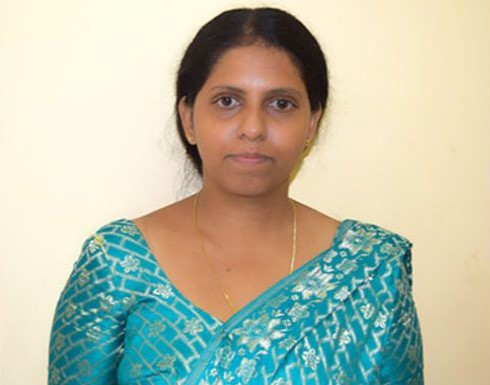 Dr. (Mrs.) DR Gimhani
Department of Biotechnology
The Department of Biotechnology at WUSL was founded in 2005 with a vision to be recognized as a Department for department for biotechnology education in Sri Lanka and the region. Currently the department has 7 faculty members, 27 specialization students, 2 Ph.D. and 2 MPhil Research Scholars, associated staff and Visiting Faculty.
We carry out collaborative research with other departments within the institute and also with other institutes in Sri Lanka and abroad. Our research contributions through indexed journal publications in the past few years have been significant and we have also filed for one patent.
The department contributes to three Degree programs namely BSc Agriculture, B Biosystems Technology and BSc Plantation Management focusing on chemistry, biochemistry, microbiology and molecular biology and biotechnology disciplines. We also conduct MPhil and Ph.D.  Degrees by research and contributes to M. Agri-Enterprise and Technology Management, which is a multi-disciplinary program offered by the faculty. 
The Department of Biotechnology at this institute is relatively young but has grown rapidly in the past 10 years. It was originally housed in a small laboratory with limited facilities. Recently, we have received significant funding from NRC, NSF and CARP which has helped us to set up a modern facility for biotechnology research. We hope to improve upon it in the near future. We have planned for expansion into a new teaching laboratory to accommodate our core programme students and growing number of specializing and postgraduate students.
I invite you to explore our web site, to learn more about our department, our staff and research facilities, students and outreach activities and our subjects and programs